Broccoli and Stilton Soup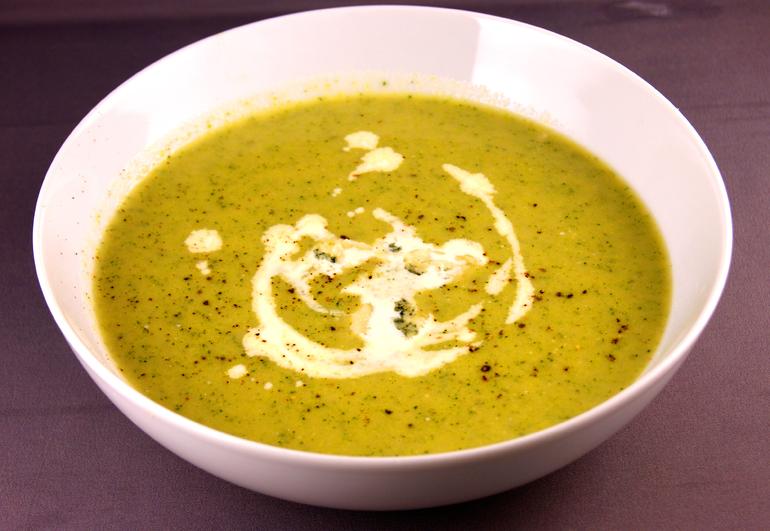 This soup will convert even the stubbornest smooth soup haters (e.g. me). A lovely rich texture and an illusion of health make this soup irresistible.
Method
Fry the onion in butter over a medium heat until just starting to turn golden.
Add the potato, water and stock cubes. Gently boil until the potatoes are tender.
Add the broccoli and stalks to the pan. Gently boil for another 5-7 mins.
Add all other ingredients to the pan, then transfer to a blender and blend to make a thick soup. Alternatively use a stick blender within the pan itself.
Check consistancy and add water if too thick.
Cool quickly if storing, or reheat and serve with crumbled stilton and a drop of cream to eat straight away.
Tips
To prepare the stalks of the broccoli, cut off the outer husk (skin), and trim the dry end off. Medium dice and cook along with the chopped head.
It's always best to start with too little boiling water than too much. Its easier to thin down a soup at the end than it is to thicken it up.
Main Ingredients
Brocolli

1 large head (and stalk), roughly chopped

Stilton Cheese

220 g, crumbled

Potato

1 medium, peeled

White onion

1 medium, medium dice

Knorr Vegetable stock cubes

2

Boiling Water

800 ml

Double Cream

2 tbsp

Unsalted Butter

15 g

Light Soy Sauce

2 tsp

Ground Black Pepper

2 tbsp

Salt

to taste
Recipe Information
Cook Time: 30 minutes
Prep Time: 15 minutes
Yield:

4 bowls as a starter
Recipe published on .