Chicken, Chorizo and King Prawn Paella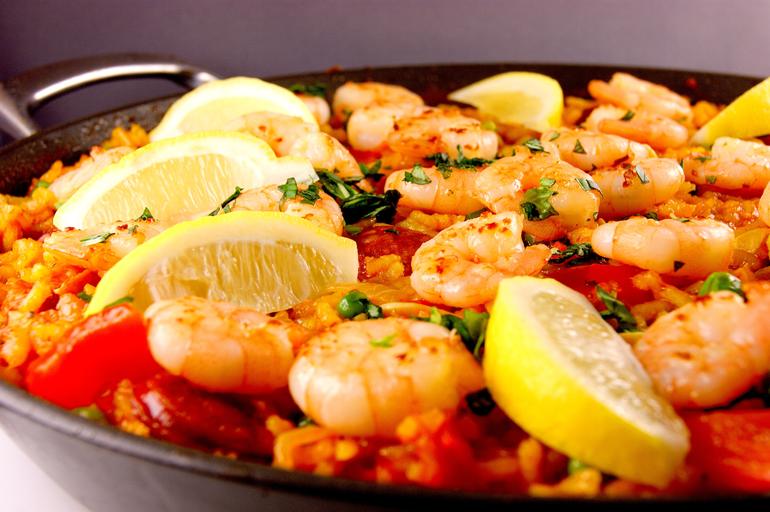 Techniques vary, ingredients vary, but the taste is always superb. Saffron is a must, and isn't overly expensive as a little goes a long way.
Method
Add olive oil to a large paellera (or frying pan in my case). Place over a medium heat until the oil is hot.
Add the chopped onion, smoked paprika and chorizo to the oil. Fry for 5 minutes until the onions are golden and softened.
Tomatoes next, add to the pan and continue frying for another 5 minutes.
Add the rice, red pepper and garlic to the pan, fry for 3 minutes.
Add the chicken stock, chicken breast, saffron, peas and food colouring to the pan, reducing the heat to low.
Simmer for 30 minutes:

Purists would say never stir, but I like to very gently move the rice around once during cooking, about halfway.
Add more hot water near the end if things look like they're drying out.
Remember that this dish shouldn't have any water, and should have a crunchy base (known as a soccarat)

Either add the king prawns about 7 minutes before the end, or fry them separately in some butter and add at the end.
When all the liquid is absorbed, arrange the lemon wedges on the paella and sprinkle with the chopped parsley. Let sit for 5 minutes covered with foil, then serve.
Main Ingredients
Chicken Breast

1 breast, medium cubes

Chorizo

large piece (150g), sliced

King Prawns

15

Red Bell Pepper

1 whole, medium dice

White Onion

1 large, finely chopped

Garlic

4 large cloves (to taste), finely sliced

Fresh Tomatoes

4 medium, finely chopped

Frozen Peas

good handful

Short grain Rice (Calasparra is good)

300 g

Olive Oil

4 tbsp

Saffron

small pinch (0.25g)

Smoked Paprika

1 tsp

Lemon

1 whole, cut into wedges

Fish (or Chicken) Stock

1 l

Yellow Food Colouring

2 drops

Flat leaf Parsley

small bunch, finely chopped
Recipe Information
Cook Time: 30 minutes
Prep Time: 20 minutes
Yield:

3 portions
Recipe published on .