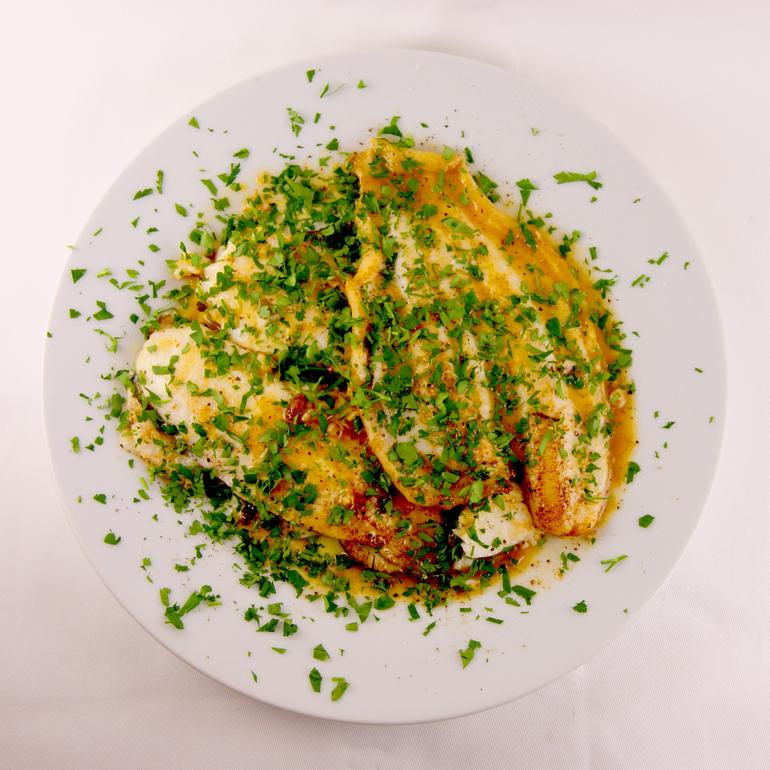 Lemon Sole pan fried with Butter, Lemon and Garlic. Slightly unimaginative but great for a mid-week dish.
Method
Prepare the lemon - zest and juice it.
Place a large frying pan on a medium heat (not too hot). When up to temperature add the butter and salt. Wait until the butter goes quiet.
Place the lemon sole skin side down into the pan and scatter the garlic around the fish. Fry for roughly 3 minutes each side until the internal temperature reaches 62°c.
When cooked, place the lemon sole onto a serving plate. Quickly raise the heat of the pan to high and add the lemon juice and zest. Cook down the lemon juice
Serve with the butter spooned over the top, and a good handful of chopped parsley.
Main Ingredients
Lemon Sole

2 fillets (300 g)

Butter

50 g

Garlic

1 large clove, sliced thin

Lemon Zest

1/2 tsp

Lemon Juice

from 1 lemon

Parsley

small handful

Sea Salt

small pinch
Recipe Information
Cook Time: 6 minutes
Prep Time: 5 minutes
Yield:

2 fillets
Recipe published on .