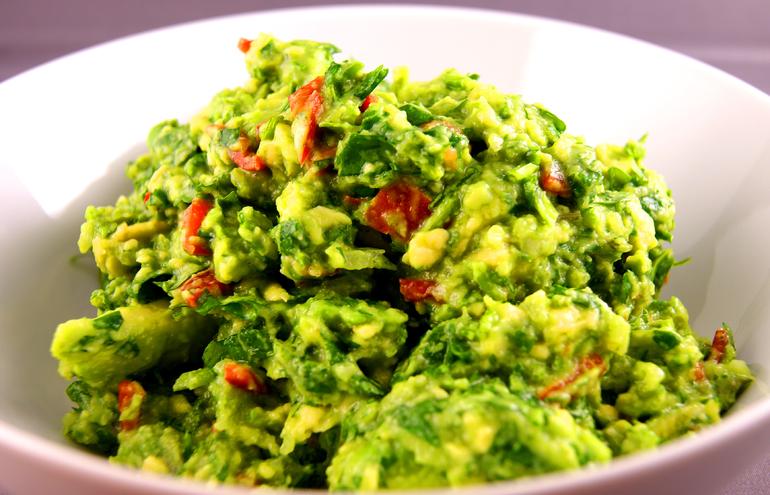 Ignore the fat content, avocado is super food! Guacamole is easy to make and is a great accompaniment to any fajita or chilli.
Method
Prepare all ingredients apart from the avocado, placing them in a large bowl.
To get the most out of your Avocado:

Cut it in half parallel to the length of the avocado (bringing your knife in a circle around the stone). Then twist the two halves. This will split the avocado in half, one side left with the stone.
Twist the stone to remove. I do this by driving the blade of a chefs knife into the stone (it's relatively soft), then twisting.
For each half, make legthways cuts through the flesh, without going through the skin.
Extract the slices using a spoon to follow inside the skin of the avocado.

Add avocado to the bowl and without delay begin mashing with a sturdy fork or gently with a potato masher. You want to get the lime juice in contact with the avocado as quickly as possible, otherwise it'll brown.
Give it a good stir then transfer to a serving dish
Tips
Guacamole is something that isn't worth making in advance, it tuns brown within an hour so.
More lime juice will slow the browning, but can make the guacamole too tangy.
Main Ingredients
Ripe Avocado

2 large

Red Onion

1/2, very small dice

Red Chilli

1 large, deseeded and diced very small

Fresh Lime Juice

1 1/2 tbsp

Tomato

1 medium, very small dice

Coriander

30 g (good bunch), finely chopped

Salt

1/5 tsp
Recipe Information
Cook Time: None
Prep Time: 15 minutes
Yield:

4 portions as a side
Recipe published on .