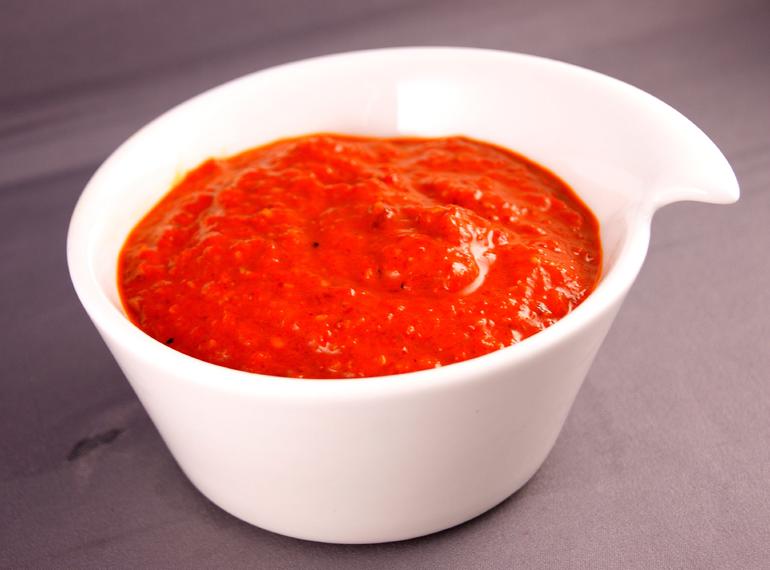 Serve alongside BBQ'd meats, or use a marinade. Eat just with pitta and tzatziki for a punchy appetiser.
Method
Roast the red peppers (or use jarred red peppers if you don't have any fresh). Meanwhile soak the red chilli's in a covered bowl with some boiling water for 30 minutes.
Grind the coriander and cumin in a pestle and mortar
Place all the ingredients in a food processor, blend well adding olive oil to thin down the paste. Taste and add more salt or white wine vinegar if required to balance the flavours.
Chill before serving
Tips
If using a mild dried chilli, you don't need to add the roasted red peppers, just use lots more chillies.
If you're using chilies that could kill a man (as with those I had in the cupboard), add the roasted red peppers to tame the sauce.
Main Ingredients
Whole Dried Red Chilli's

5, dependant on the heat

Garlic

3 cloves

Roasted Red Peppers

2, cooled

White Wine Vinegar

1 tbsp

Dried Cumin Seeds

1 tsp, ground

Dried Coriander Seeds

1 tsp, ground

Olive Oil

3 tbsp

Salt

1/2 tsp
Recipe Information
Cook Time: None
Prep Time: 30 minutes
Yield:

1 medium jar
Recipe published on .