Hasselback Garlic and Rosemary Potatoes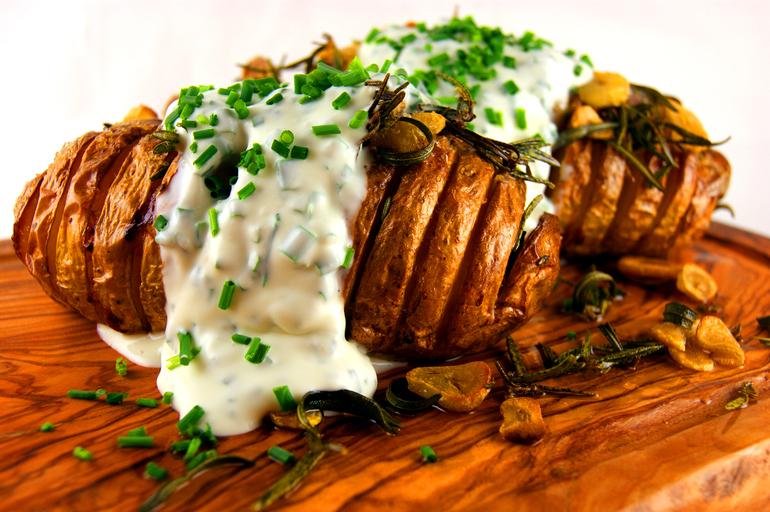 Slowly roasted hasselback potatoes, finished with a Garlic and Rosemary infused oil.
Mum cooked hassleback potatoes when I was a wee nipper, they were far more interesting than a jacket spud! Although I prefer Mum's variation with melted cheese, this is another tasty way of serving them.
Method
Create the hasselback by cutting 3 mm thick slices into the raw potatoes. Don't cut all the way through! If you do accidentally cut through, just keep the halves together on the plate and no one will know. The potatoes will fan out during cooking, don't try and force apart the slices, you'll just break the spine.
Rub with 2 tbsp of the olive oil and a little salt. Place in a 200 c oven for about an hour until cooked through and fanned out.
While the potatoes are cooking, infuse the olive oil:

In a small saucepan, add the garlic, rosemary leaves, salt and olive oil.
Place on a very low heat and stir occasionally.
You don't want to hear frying, just see the occasional bubble in the oil. If your hob doesn't go very low (mine doesn't), regulate the temperature yourself by repeating a cycle of heating on low for 30 seconds, then turning off and leaving to cool for a minute.
Stop the process at the first sign of any browning, or when the garlic has softened quite a bit. Set aside.

While the potatoes are cooking, prepare the crème fraîche by stirring in most of the chives. Leave some chives for sprinkling over the top.
5 minutes before the end of cooking, spoon the infused oil over the potatoes along with all the garlic and rosemary. Place back in the oven for 5 minutes, take out earlier if the garlic starts to brown at all.
Place in your serving dish, spoon over the crème fraîche and top with the remaining chives.
Tips
Don't try and roast the garlic and rosemary from the beginning. The garlic burns very quickly in the oven and tastes horrendous (I found that the hard way).
You can hasselback most potatoes, even new potatoes. The waxier variety tend to work better than floury.
Main Ingredients
Large Potatoes

2, I used two 350 g potatoes

Fresh Rosemary Leaves

6 g (from 3 medium sprigs)

Garlic Cloves

20 g (4 large cloves), sliced 1 mm thick

Olive Oil

6 tbsp

Salt

1/2 tsp

Crème Fraîche

200 ml

Chives

20 g (good handful), small dice
Recipe Information
Cook Time: 1 hour
Prep Time: 20 minutes
Yield:

2 large potatoes
Recipe published on .