Hazelnut and Almond Granola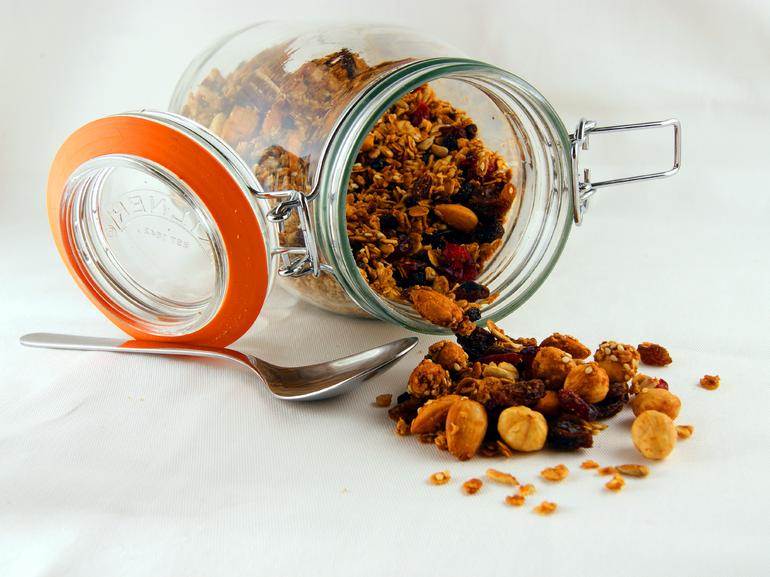 Gently toasted, with just the right amount of sweetness. I couldn't find a granola recipe that looked good so I came up with this (rather moreish) one.
Method
Preheat the oven to 150 c (fan assisted).
In a large bowl carefully mix all of the toasting ingredients. It's a stubborn mixture so use strong kitchen utensils!
Spread the mixture over a large baking tray lined with greaseproof paper. Spread it reasonably thin so there's a large surface area for browning. Either use one large tray or two medium sized trays.
Bake for about 45 mins. Every 10 minutes, give the mixture a good stir and check how toasted it is. Really use your eye to determine when the granola is fully baked, because every oven is different.
Remove from the oven and leave to completely cool.
Stir through the dried fruits then transfer to an airtight container(s) for storage. This will keep fresh for a few weeks, not that you'll be able to leave it that long!
Toasting Ingredients
Thick Rolled Oats

300 g

Whole Blanched Hazelnuts

100 g

Whole Blanched Almonds

100 g

Sunflower Seeds

100 g

Sesame Seeds

100 g

Maple Syrup

90 ml

Clear Honey

50 ml

Dark Brown Muscovado Sugar

2 tbsp (35 g)

Sunflower Oil

3 tbsp

Vanilla Extract

1 tsp

Sea Salt

1 tsp, optional
Dried Fruit Ingredients
Sultanas

70 g

Currants

70 g

Raisins

70 g

Dried Cranberries

70 g
Recipe Information
Cook Time: 45 mintes
Prep Time: 10 minutes
Yield:

about 2 litres
Recipe published on .