Masala Chai - Mixed Spice Indian Tea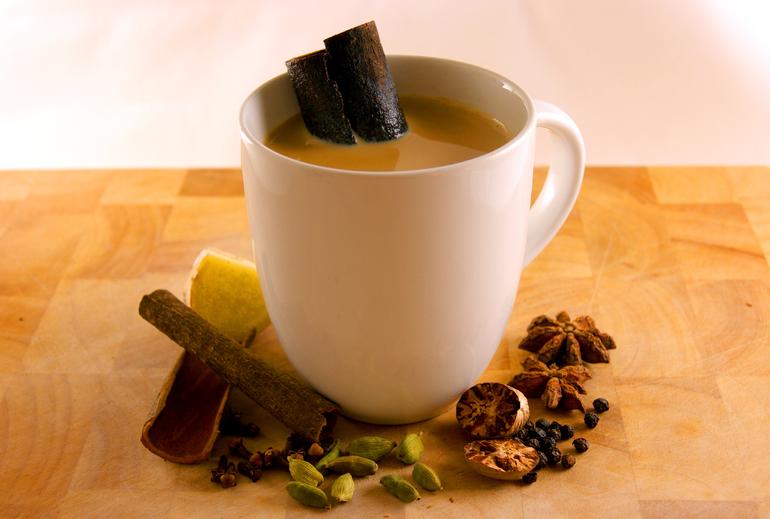 Miles apart from the imitation chai served in most coffee shops!
Method
Place a medium saucepan onto a high heat.
Add all of the spices to the pan along with the water. Bring to the boil, then turn the heat down and let simmer for 10 minutes.
Add the Assam tea and simmer for 1 minute.
Add the milk and sugar. It's best to add half the sugar now and then add more at the end if needed.
Turn up the temperature, keep stirring and turn down the heat immediately as it starts to boil. Simmer for 2 minutes.
Filter the spices out:

Remove the large cinnamon sticks from the pan (keep these aside, they look great placed inside the mugs)
Use any method you have handy to filter the spices out. I used a drip coffee filter paper and cone. Alternatively pour through a tea strainer or fine sieve.

Serve with the cinammon sticks placed in the mug.
Tips
The base spice in masala chai is usually cardamom. As long as you always have that, you can pick and choose what spices you add to complement it.
If you don't boil the milk the drink is thought of as "raw". Although Assam can withstand this, I would break tradition and not boil if using a delicate tea such as Darjeeling. Instead gently heat for a minute.
I've used a few non-traditional spices such as star anise and ginger. Don't be afraid to experiment!
Main Ingredients
Loose Leaf Assam Tea

2 tsp

Whole Milk

350 ml

Water

350 ml

Brown Sugar

4 tsp

Green Cardamom Pods

10, split open slightly

Cinnamon Sticks

1 large

Whole Black Peppercorns

8

Cloves

3

Ginger

10 g (small chunk), peeled

Whole Star Anise

1

Whole Nutmeg

1/2
Recipe Information
Cook Time: 15 minutes
Prep Time: 3 minutes
Yield:

2 mugs
Recipe published on .