Quick and Light Classic Potato Salad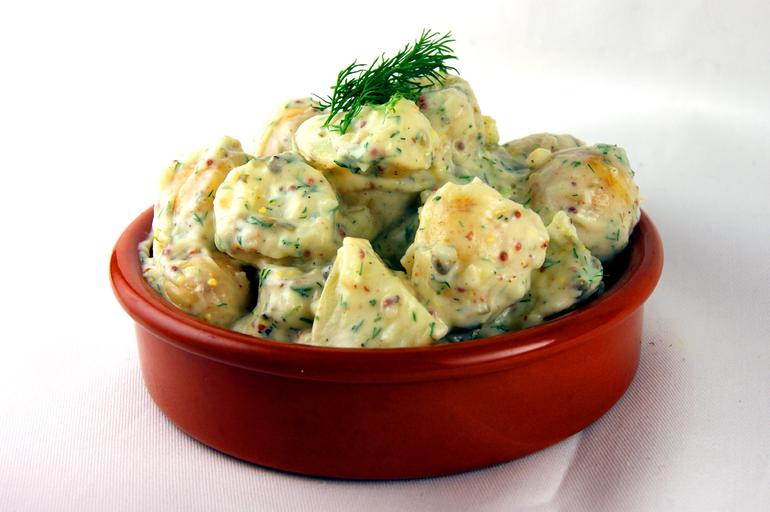 Full of flavour to complement any BBQ. Without that odd tang of the supermarket stuff.
Method
Prepare the potatoes:

Place new potatoes in a large saucepan with the salt. Cover with boiling water.
Boil until tender (or slightly before tender if you like it that way).
When ready, drain and run under cold water until the potatoes have cooled.

Whilst the potatoes are cooking, prepare the dressing in a large bowl by adding all the remaining ingredients and mixing well.
Taste the sauce for acidity and sweetness, adding more vinegar or honey as required.
Combine the cooled potatoes and the sauce in the large bowl. Serve.
Tips
Add a tablespoon of oil to the potato water to reduce the chance of them boiling over.
The best new potatoes for this recipe include any waxy potato: Jersey Royals, Charlotte, Maris Peer etc.
Make this salad up to 24 hours in advance and keep refridgerated until serving.
Main Ingredients
Waxy New Potatoes

1 kg, bite-sized pieces

Light Hellman's Mayonnaise

1 1/2 cups

Yellow Onion

1/2 small (65 g), very finely diced

Capers

about 80 (5 tsp / 15 g), roughly chopped

Wholegrain Mustard

1 tbsp

Fresh Dill

10 g, roughly chopped

Pepper

1 tsp

Olive Oil

1/4 cup

White Wine Vinegar

6 tsp

Clear Honey

3 tsp

Salt

1 tbsp
Recipe Information
Cook Time: 20 minutes
Prep Time: 10 minutes
Yield:

6 portions as a side
Recipe published on .