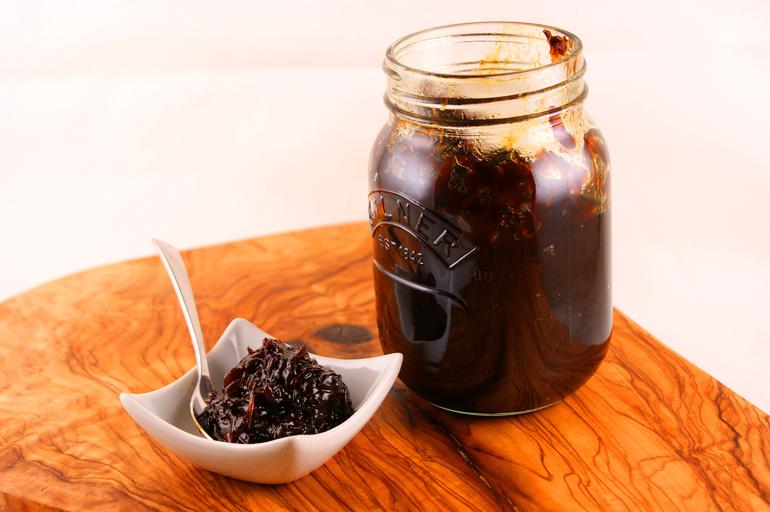 A good introduction to chutney making, a bad introduction to propanethiol-S-oxide. Makes a great gift and complements many foods.
Method
In a very large stockpot add the oil, rosemary, bay leaves and cinnamon. Place over a low heat for 15 mins to infuse the oil, gently stirring every so often.
Remove the rosemary and bay leaves with tongs, gently squeezing on the inside of the pan to make sure most of the oil stays in the pan.
Add the onions to the cinnamon and oil. Gently cook for about 30 mins, you're looking to evaporate the majority of the liquid from the onions so they're very soft.
Remove the cinnamon sticks
Add all of the other ingredients to the pan, raise the heat, continually stir and bring to simmer, then reduce the heat to low.
Let this reduce down slowly for about an hour, stirring often. It's ready when the thickness reaches that of loose chutney. Remember it will thicken up when it cools.
Transfer into sterilised jars and allow to cool.
Store in a cool, dark and dry place for at least a month to allow the flavours to settle.
Main Ingredients
Red Onions

32 medium, sliced thin

Balsamic Vinegar

800 ml

Red Wine Vinegar

400 ml

Dark Brown Sugar

880 g

Cinnamon Sticks

28 cm worth

Freah Rosemary

4 sprigs

Dried Bay Leaves

8

Sunflower Oil

4 tbsp
Recipe Information
Cook Time: 1 hour, 20 minutes
Prep Time: 30 minutes
Yield:

roughly 3 large jars
Recipe published on .