Salmon and Couscous Filo Parcels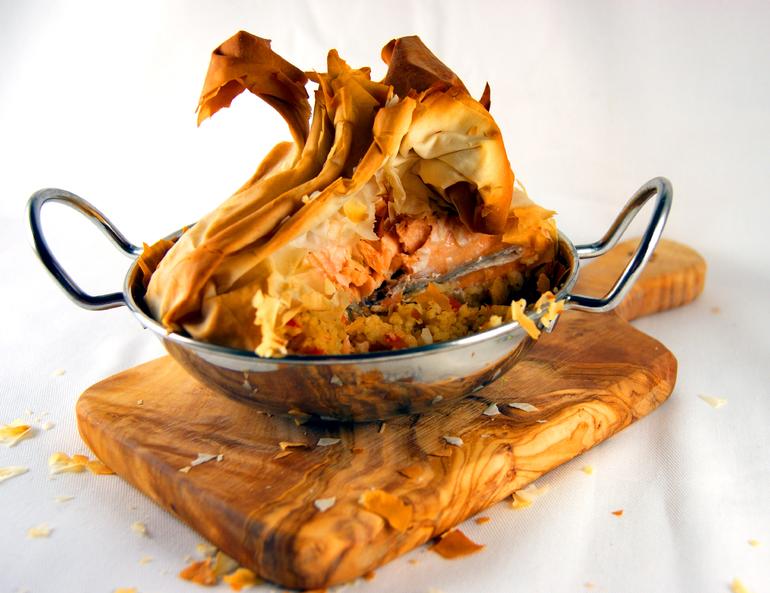 The filo parcel and couscous base create a perfect steamer for the salmon, and you can eat all of it! A quick but special midweek meal.
Method
Prepare the couscous:

Place a saucepan on a medium heat.
Fry the onion, red pepper, green pepper, garlic and olive oil in the saucepan for 10 minutes until the onions start to soften and colour.
Add the tomato, smoked paprika, black pepper. Continue frying for 5 minutes.
Pour in the fish stock and bring to the boil. Test for salt levels and adjust if needed. This will depend on your stock, if using a bought stock then it's likely to be quite salty already.
Stir in the couscous and parsley, place a lid on the pan and remove from the heat. Let stand for 5 minutes whilst preparing the pastry.

Prepare each parcel. The photo below can be used as a guide:

For each parcel, layer 4 sheets of filo. Lightly brush each layer with melted butter before laying the next sheet on top.
You should now have 2 stacks of filo, each with 4 sheets, one stack for each parcel.
Divide the couscous evenly between the two stacks. You might not need to use all the couscous, it depends on the size of the filo sheets. Form it into a rough cuboid for the salmon to sit on.
Place a salmon fillet on top of each couscous pile. Then lay a lemon wedge on top of the salmon.
Bring up the sides of the filo and form a rough parcel. Brush the narrowest part of the parcel with any remaining melted butter.

Transfer the parcels to individual cooking dishes that can support the parcel as it cooks. Brush the dishes lightly with butter also.
Place in a preheated 180 c oven for about 30 minutes until the filo is golden but not burnt.
Main Ingredients
Salmon Fillet

2 small fillets (mine were 110 g each)

Filo Pastry

8 sheets

Lemon

2 wedges

Melted Butter

50 g
Couscous Ingredients
Couscous

140 g

Green Bell Pepper

40 g (1/2 small pepper), small dice

Red Bell Pepper

40 g (1/2 small pepper), small dice

Yellow Onion

100 g (1 medium onion), small dice

Fresh Tomatoes

150 g (2 medium), small dice

Garlic

2 large cloves, small dice

Curled Parsley

small handful, roughly chopped

Fish Stock

250 ml

Salt

1/2 tsp, depending on saltiness of stock

Smoked Paprika

1/4 tsp

Ground Black Pepper

1 tsp
Recipe Information
Cook Time: 40 minutes
Prep Time: 20 minutes
Yield:

2 parcels
Recipe published on .