Seriously Hot Chilli Sauce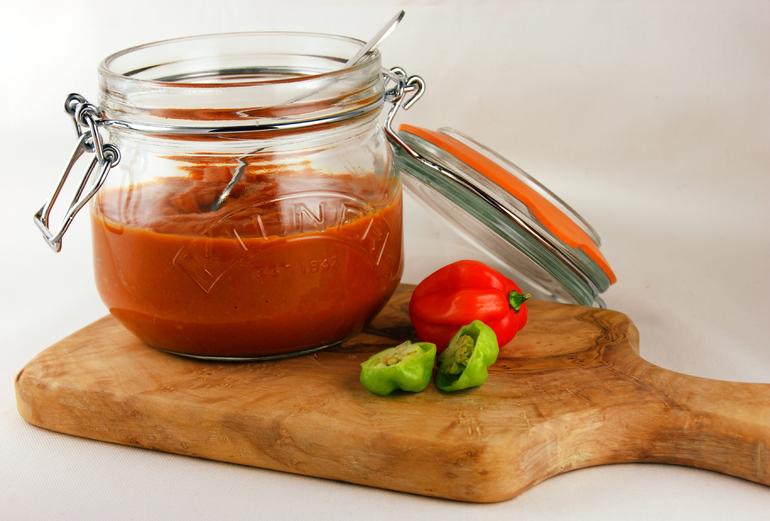 Chilli sauce can't get much hotter than this without losing flavour. Proceed with caution (and milk)!
Method
In a saucepan (non-stick helps here), add the vegetable oil, onions, scotch bonnets and garlic. Place over a low heat and fry for ~10 minutes until lightly browned.
Add the chopped tomatoes, tomato purée, smoked paprika and water to the pan. Stirring regularly, cook down with a lid on for ~25 minutes until the tomatoes have broken down.
Whilst the tomatoes are cooking down, rehydrate the chillies. Using tongs, very add the chillies to a of bowl of recently boiled water. Cover the bowl. Turn them halfway through to make sure all sides rehydrate.
When the tomato mixture has cooked, transfer it to a blender. Add the vinegar, salt and sugar to the blender also.
Using tongs, hold each chilli over the bowl. Use scissors to carefully snip the stalk off and discard it. Then place the chillies in the blender.
Blend for 1 minute to achieve a smooth sauce. Do this with a window open, and using a trustworthy blender with a securely fitting lid. This isn't the kind of sauce you want uncontrollably sprayed on you or your kitchen!
Taste for salt, sugar and vinegar levels, then allow to cool and serve.
Main Ingredients
Dried Naga Bhut Jolokia (Ghost Pepper)

4, left whole

Fresh Scotch Bonnet Chillies

8, halved

Fresh Tomatoes

3 medium (370 g), roughly diced

Tomato Purée

3 tbsp

Yellow Onion

2 medium (220 g), roughly diced

Garlic

6 large cloves (35 g), roughly sliced

Smoked Paprika

2 tsp

White Wine Vinegar

8 tbsp

Vegetable Oil

1 tbsp

Water

2 tbsp

Sugar

1 tsp

Salt

1/2 tsp
Recipe Information
Cook Time: 1 hour
Prep Time: 10 minutes
Yield:

500 ml
Recipe published on .