Soy Chicken with Sesame Salad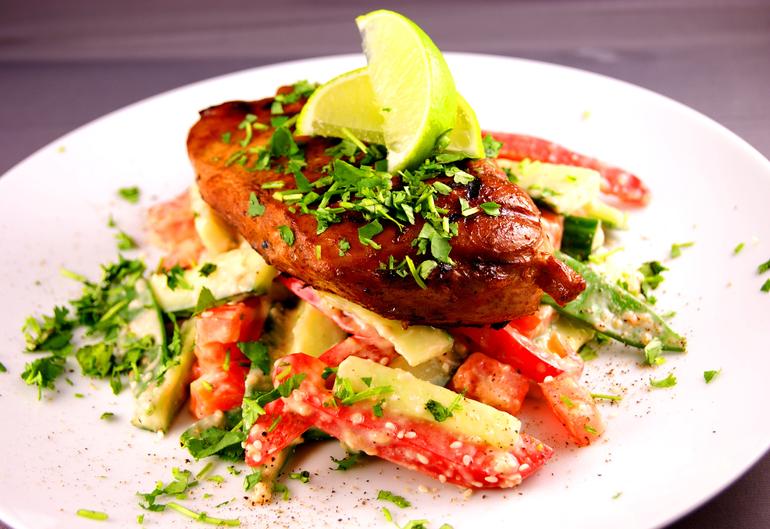 An asian inspired salad. If you haven't tried a sesame dressing like this before, give it a go!
Method
The night before, create the soy sauce marinade by:

Place the soy sauce and sugar in a small saucepan.
Over a gentle heat, slowly reduce the mix, stirring regularly until it reaches a thick liquid like the consistency of double cream.
Cool completely, it will be then the thickness of golden syrup.
Rub the chicken with the concentrate, make sure they're well coated.
Marinate overnight in the fridge.

When ready to cook, first make the Sesame Salad Dressing:

Toast the sesame seeds in a dry pan until turned a light golden colour. Make sure they don't burn. Set aside into a bowl and let cool.
Place the sesame seeds into a pestle and mortar, crush to make sure they're all crushed.
Add the rest of the ingredients and mix well.

Put a grill plate (or frying pan, or BBQ) onto a medium heat whilst you prepare the salad.
Place the chicken onto the griddle plate, turn occasionally and use a digital temperature probe to cook until perfect (70c).
Just before removing the chicken from the pan, dash some more liquid smoke and plenty of lime juice over the chicken, then remove from the heat.
Prepare the salad, then toss through with the dressing.
Serve with plenty of chopped fresh coriander over the top.
Tips
The chicken really should be marinated at least 12 hours in advance, so get that prep done!
Soy Chicken Marinade Ingredients
Chicken Breast

2

Soy Sauce

6 tbsp

Liquid Smoke

2 tsp, highly dependant on brand

White Sugar

2 tbsp

Salt

1/2 tsp
Sesame Salad Dressing Ingredients
Sesame Seeds

2 tbsp

Toasted Sesame Oil

2 tsp

Mayonnaise

2 tbsp

Rice Wine Vinegar

1 1/2 tbsp

Honey

1 tsp

Salt

1/8 tsp
Salad Ingredients
Mangetout

small punnet

Cucumber

1 whole, sliced lengthways

Tomatoes

5, half moon sliced

Red Pepper

2, long slices
Recipe Information
Cook Time: 30 minutes
Prep Time: 30 minutes
Yield:

2 portions
Recipe published on .