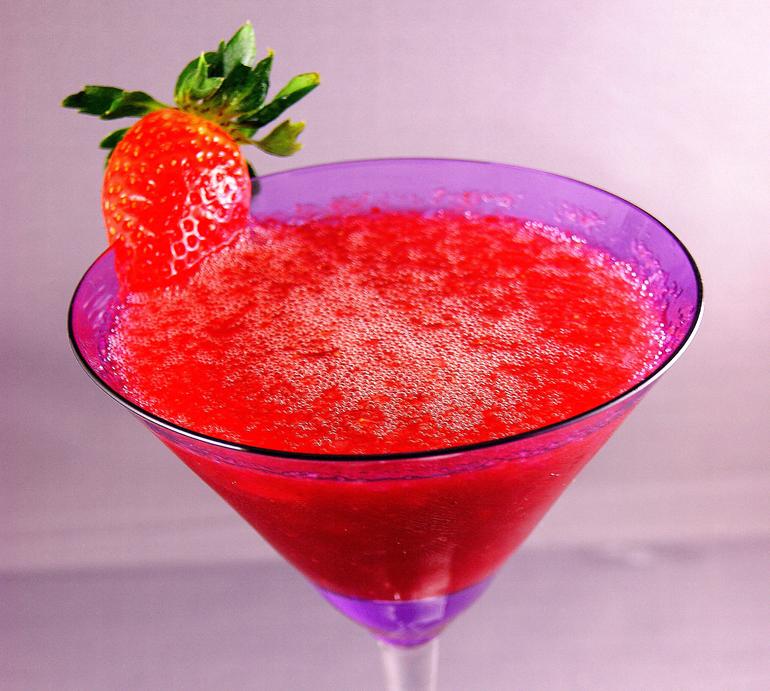 By request (to avoid complete loss of manliness), here is a simple Strawberry Daiquiri recipe.
Method
Before anything, use the martini glass you will serve in to measure the amount of ice needed. Place this ice into a blender.
Fill the martini glass back up with more ice, top up with cold water, and allow this to cool the glass whilst preparing the drink.
Prepare strawberries by washing and cutting the tops off 10, leaving two with their stalks on for decoration after.
Place the rest of the ingredients in the blender, blend till smooth.
At this point, taste test for the balance between the sugar and the lime juice, adding more of either to suit your taste.
Pour the ice and water out of the glass, then pour in the drink from the blender.
Run the knife halfway into the strawberries, then place on the side of the glasses.
Main Ingredients
Strawberries

12

White Rum

2 measures

Creme De Cassis

2 measures

Lime Juice

1 measure

White Sugar (or gomme syrup)

1 tsp

Ice Cubes

2 Glasses Full
Recipe Information
Cook Time: None
Prep Time: 8 minutes
Yield:

2 glasses
Recipe published on .