Thai Red Curry with Chicken and King Prawns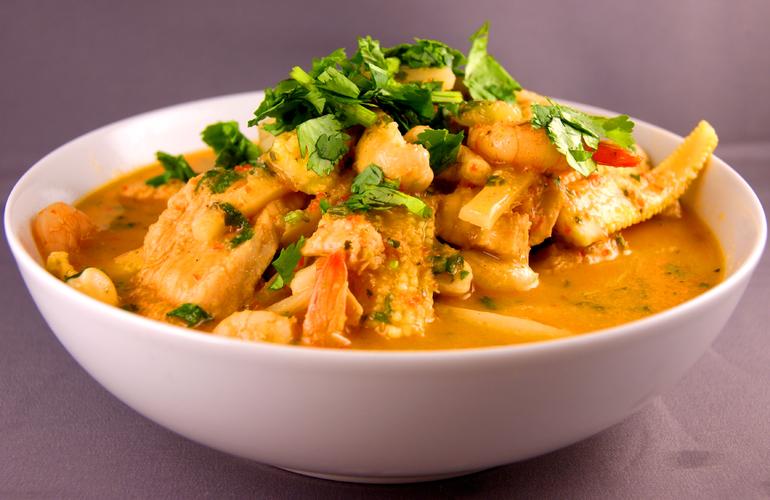 Sweet, Sour, Savoury and Salty. Get this balance right and you'll have the best Thai Curry. Warm and comforting, it doesn't take as much effort as the ingredient list may suggest!
Method
Make the red curry paste by placing all the Thai Red Curry Paste ingredients into a food processor. Process on full speed for 60 seconds.
Prepare all ingredients, it will make it much easier to have everything ready:

Chicken sliced and King Prawns peeled (if necessary)
Baby corn quartered parallel to the length.
Bamboo shoots chopped parallel to the length
Trim the base of the pak choi, seperate leaves and half parallel to the length

Get your rice on. The rice should be cooked and just be keeping warm when you start cooking your curry.
Put a large pan on a high heat, add the peanut oil, chicken and red curry paste. Fry this for a few minutes until the chicken is half cooked.
Add the babycorn, fry for 30 seconds or so, to heat through.
Add the rest of the ingredients except the cashew nuts. Let everything bubble away for a few minutes until the baby corn is just tender and the prawns/chicken are cooked through.
At this point, it is very important to check the balance of flavours in the curry. Taste and check for a good balance of Savoury, Sweet, Sour and Salty. Adjust any of these by adding more fish sauce, sugar, lime juice or salt. This stage can make or break a curry. I usually find myself adding more of all of these.
Stir through the cashew nuts and chopped coriander just before serving.
Serve the rice moulded on a plate (I use an oiled mug to do this), and the curry in a separate dish. Add chopped coriander generously to garnish the curry and rice.
Curry Ingredients
Chicken Breast

1, sliced

King Prawns

20, peeled

Pak Choi

1 medium, not Thai - but very tasty

Baby Corn

8, halved lengthways

Coconut Milk

1 can

Thai Fish Sauce

3 tbsp, or more to taste

Kaffir Lime Leaves

4

Peanut Oil

2 tbsp

Coriander

30g bunch, roughly chopped

Unsalted Raw Cashew Nuts

1 cup

Bamboo Shoots

1 cup, lengthways matchsticks
Thai Red Curry Paste Ingredients
Fresh Lemon Grass

2 stalks, outer leaves removed and chopped

Dried Kaffir Lime Leaves

2

Thai Fish Sauce

3 tbsp

Light Soy Sauce

1 tbsp

Brown Sugar

2 tbsp

Salt

1 tsp

Limes

2, juiced

White Pepper

1 tsp

Red Chilli

2, deseeded

Ginger

thumb size piece, peeled

Garlic

2 medium cloves, peeled

Shallots

2, peeled and halved

Ground Cumin

1 tsp

Ground Coriander

1 tsp

Shrimp Paste

1 1/2 tsp
Recipe Information
Cook Time: 20 minutes
Prep Time: 30 minutes
Yield:

2 portions
Recipe published on .